Gas cylinders provide a versatile source of energy. Whatever your need – at home, restaurant, or factory, we have three different cylinder sizes to suit your needs. We can deliver to your door from our extensive delivery network of vehicles, so you can enjoy uninterrupted supply of Nader Gas without any hassle.
Which Cylinder Do I Need?
Follow the quick size-guide below to see which cylinder size is right for you.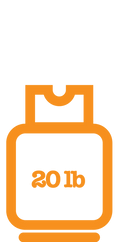 BBQ & Patio
Heaters – 20 lb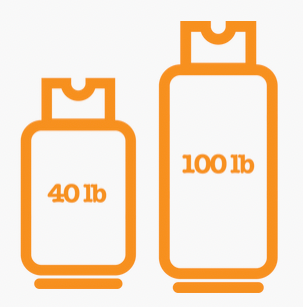 Light Commercial Use/Forklift
Trucks/Welding 40 lb or 100 lb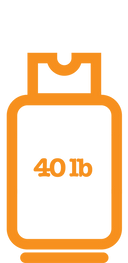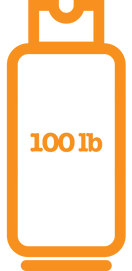 Restaurants & Heavy Industrial Use - 100 lb
And for LPG Regulators Guide
Tips to bear in mind when handling Nader Gas LPG cylinders.
If you use Nader gas cylinders , you don't even need to touch them. You will have 2 or more gas cylinders and when the first pair is empty the changeover valve automatically switches to the second pair. All you then have to do is call us and will send someone out to replace the gas cylinders, connecting them for you. It's as easy as that.
Using LPG (Liquid Petroleum Gas)
Whenever you USE LP gas, you NEED to take certain precautions to STAY SAFE. Nader Gas is committed to giving you all the information and advice you need to USE your LP gas EFFECTIVELY and SAFELY, so we have created a guide to using our gas cylinders.
What to do
Most importantly; when you handle LP gas bottles, treat them with care to make sure valves aren't damaged, and always use them in an upright position. Read all instructions and labels supplied with your gas bottle or appliance, and keep them handy for future reference. We also recommend you return the gas bottle when it's empty or out of use for a long period.
What NOT to do
– No matter what the purpose for using a LP gas bottle, you should always avoid subjecting a gas bottle to heat, as the pressure inside could build to unsafe limits.
– Never try to disconnect or unscrew a regulator from a gas bottle if the flame doesn't go out when the cylinder handwheel is turned off.
– Don't store or use gas bottles in cellars or below ground level.
Looking After Your Hoses & Tubing
Looking After Your Hoses & Tubing
The normal useful service life for a hose is approximately 5 years, so do REMEMBER to replace them at the end of their life span. BEAR IN MIND: